Riing 12 LED RGB Fan (Single Fan Pack)
高风压RGB 256色LED专利设计 12公分水冷排风扇搭配一个智能风扇控制器
Riing 12 LED RGB 256 Colors High Static Pressure LED Radiator Fan(Single Fan Pack)

Thermaltake has released the new Riing 12 LED Series, a 120mm fan fitted to enhance static pressure that produces impressive cooling performance with an optimized fan blade. Hydraulic bearings for silent operation guarantee ultra-low noise. In addition, an anti-vibration mounting system strengthens the stability during operation.

The patented LED Ring maintains color and brightness uniformity; the lighting effect is visible from all sides and angles. The four-colored LED ring (in blue, red, white, and green) adds style to the chassis.

US Application Patent : 14/702,806
| | |
| --- | --- |
| "Tt LCS Certified" is the hallmark that ensures first-class performance from the best features and fitment. A certification exclusive to Thermaltake, it sets the benchmark for all true LCS chassis and is applied only to products that meet our stringent design standards for delivering what hardcore enthusiasts demand. The Tt LCS certification is a way for Thermaltake to designate to all power users the chassis which have been tested for best compatibility with extreme liquid cooling configurations. | |

Patenetd Design

The color and brightness uniformity of the Patented LED ring is visible from all directions and adds style to the chassis.

US Patent application : 14/702,806


Smart Fan Controller

A self-contained fan controller can switch between 5 LED modes including solid colors of red, blue, white, green or disable and cycle through 256 colors. Play/Pause functions allow users to cycle colors (color remains unchanged until reboot) with speed control options reduce noise even more all from your fingertips.

Concentrated Compression Blade

Custom designed for high static pressure requirements of demanding applications such as radiators, the concentrated compression blade is engineered to focus the weaker, inner circle of air outward, allowing the outer section to pressurize the air.


Wind Blocker Frame

To achieve maximum static pressure in all applications, the wind blocker frame is designed to work with the Concentrated Compression Blade's (CCB) pressure mechanism by directing airflow towards the middle section of the blade, thereby creating a compression effect and blocking any pressure from escaping. This reduces the blade's noise and vibration, creating a perfect balance between power and sound.
Hydraulic Bearing with Low-Noise Design

The hydraulic bearing self-lubricates with a high quality, friction-reducing substance which lowers operating noise and improves efficiency. The seal cap prevents leakage of the lubricant, and improves the lifespan of the unit. By clicking the "SPEED" button on fan controller, the noise level can be reduced to 29%.


Anti-vibration Mounting System

In-mold injection anti-vibration rubber pads provide hassle-free usage for 80% protection coverage, including all four corners.
| | |
| --- | --- |
| | Riing 12 LED RGB 256 Colors Fans are available in single fan and three fan packs allowing you to choose what best suits your build. |
更多信息
型号
CL-F042-PL12SW-A
风扇尺寸

120 x 120 x 25 mm

额定电流
0.21 A
输入功率
2.52 W
风扇转速
800 ~ 1500 R.P.M

400~1000 R.P.M (Low Noise Mode)
最大气压
0.57 ~ 2.01 mm-H2O
最大气流
22.14 ~ 40.6 CFM
噪音值
18.5 ~ 26.4 dB-A
轴承
Hydraulic Bearing
寿命
40,000 hrs,25℃
端子
4P PWM (Controller To M/B)
2510-5P ( Fan To Controller )
重量
161.1 g
使用手册
档名
描述
尺寸
Version
Release Date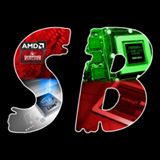 https://www.facebook.com/SglepCompany
- Belle
- Performanti per Sistemi di raffreddamento ad Aria
- Performanti per Sistemi di raffreddamento a Liquido
- Silenziose !

<More>